Flinks
Download latest source
About
Flinks is a text-mode flashing word web browser. It is intended for speed-reading and/or skimming webpages and text, and doubles as a navigator of spoken text.
See the README for instructions.
Written in Python using ncurses for display and requiring lynx for rendering. Should run without trouble on any unix-like system, and with some trouble on other systems. Runs happily on very small terminals, so ought to work well on hand-helds, or even eye-glass displays... I would be very interested to see this done.
Bug reports, comments, ports etc gratefully received at mbays@sdf.lonestar.org.
Screenshot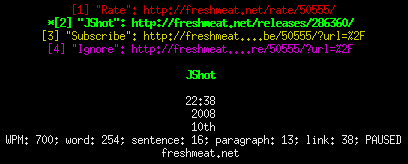 News
Latest version is 0.4.3; see NEWS and/or ChangeLog for details.
Download
Latest
Old versions
old
Source Repository
Source is maintained with darcs. To obtain a copy, run
darcs get http://mbays.freeshell.org/darcs-repos/flinks
To later update, run
darcs pull
Irc
#flinks on irc.freenode.net.