Hunt-ng
Download
About
Hunt is a multi-player search-and-destroy BSD game that takes place in a maze, written in the 1980s. Hunt-ng is a fork of hunt which aims to improve playability while preserving the charm of the original. The most significant changes are a reworking of the timing system, the addition of colour to the client, and the implementation of a simple messaging system. Note that the client and server are not backwards-compatible with classic hunt.
See the README and README.ng for details.
Bug reports, patches, comments, suggestions all gratefully received at mbays@sdf.org.
If you want to try the game without installing anything, try
ssh hunt@m.thegonz.net
password: kalte
News
Latest version is 1.0; see the ChangeLog.
Screenshot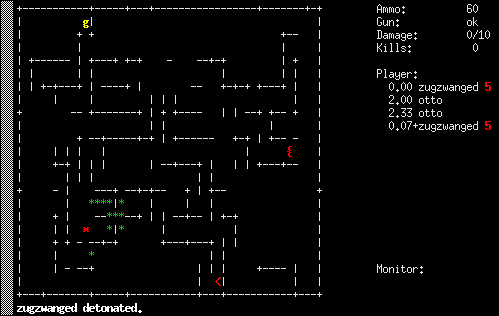 Download
Latest
Server
I am running a semi-permanent server - try hunt-ng thegonz.net
Source Repository
Source is maintained with darcs. To obtain a copy, run
darcs get http://mbays.freeshell.org/darcs-repos/hunt-ng
To later update, run
darcs pull
Irc
#hunt-ng on irc.libera.chat.